Best place to eat in Chefchuaen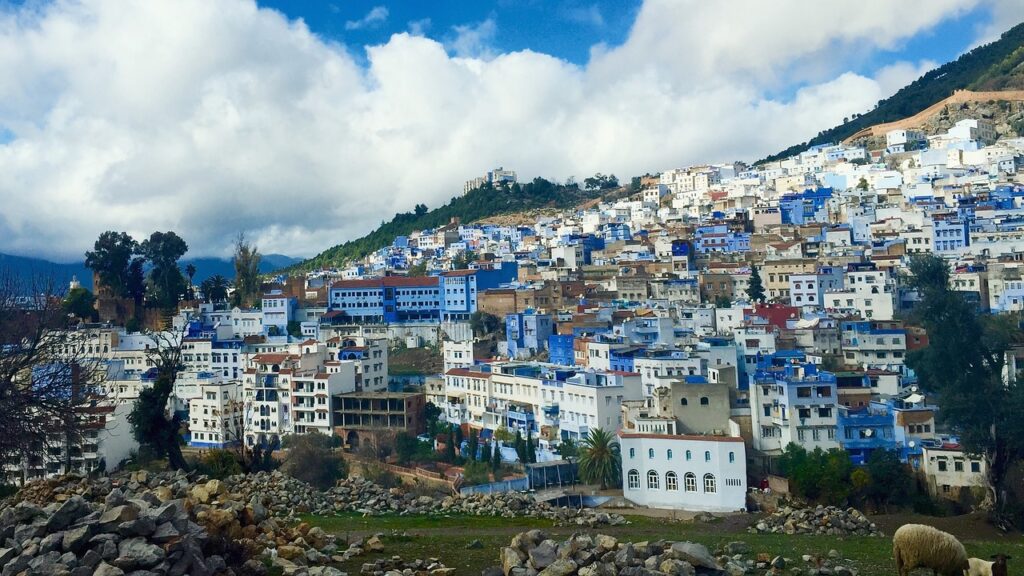 Nestled in the rugged Rif Mountains of Morocco, Chefchaouen is known not only for its stunning blue-washed streets and breathtaking scenery, but also for its vibrant culinary scene. This enchanting city offers a wide range of delicious dishes that will leave food lovers wanting more. Whether you're a traveller looking for a unique gastronomic experience or a local looking for the best places to satisfy your cravings, Chefchaouen has something for everyone. Join us on a culinary journey through the best places to eat in this enchanting blue city.
Bab Ssour:
Tucked away in the heart of Chefchaouen's medina, Bab Ssour is a hidden gem that embodies the essence of Moroccan cuisine. This cosy restaurant specialises in traditional dishes such as tagines, couscous and grilled meats. With its warm and welcoming ambience, Bab Ssour offers a dining experience that is both authentic and memorable.
Casa Aladdin:
For those seeking a fusion of Moroccan and international flavours, Casa Aladdin is a must. This charming restaurant offers an eclectic menu of dishes inspired by Mediterranean and Middle Eastern cuisines. Indulge in the mouth-watering falafel wraps, aromatic shawarmas or the mouth-watering pastilla – a savoury pastry filled with spiced meat or seafood. Casa Aladdin guarantees a delicious culinary adventure.
Restaurant Tissemlal:
If you're in the mood for seafood, Tissemlal Restaurant is the place to be. Located near the Ras El Ma waterfalls, this picturesque eatery offers a range of fresh seafood delicacies. Dine on grilled fish, prawns and calamari while enjoying the tranquil atmosphere and soothing sound of cascading water. The friendly staff and beautiful views make this restaurant a real gem.
Pizzeria Mandala:
Sometimes, no matter where you are, you get a craving for pizza. When that happens in Chefchaouen, Pizzeria Mandala is the place to go. This cosy pizzeria serves delicious wood-fired pizzas with a Moroccan twist. From the traditional Margherita to unique combinations such as lamb and fig, Pizzeria Mandala offers a delightful blend of flavours that will satisfy any pizza lover.
Chez Hicham:
For an authentic Moroccan dining experience, Chez Hicham is a must. This traditional riad restaurant serves a range of Moroccan specialities that are bursting with flavour. From aromatic lamb tagines to spicy couscous, each dish is prepared with care and precision. The cosy courtyard setting and the warm hospitality of the staff make Chez Hicham an unforgettable dining experience.
As well as being a feast for the eyes, Chefchaouen is a paradise for food lovers. From traditional Moroccan delicacies to international flavours, the city's culinary scene offers something for every palate. Whether you're exploring the enchanting blue streets or embarking on a culinary adventure, be sure to visit these exceptional eateries and discover the tantalising flavours that make Chefchaouen a foodie's paradise.